Nowadays, social media, are an integral part of every startup's life. It is a simple and fun way to connect with people, promote your product and expand your audience without major drawbacks. However, sometimes, social media can become overwhelming and confusing, as billions of people use them every day. Hence, we would like to present you with 3 tools that will help you gain a better grip on your social accounts.
Manage multiple Twitter accounts with Tweetdeck
Twitter is extremely useful to any startup and a core element of every company's social marketing plan. Sometimes, however, managing the huge amount of information appearing on your Twitter front page can be headache-inducing. Especially if you are following a lot of accounts it is extremely easy to lose track of what you have already seen and of tweets that matter. Here is where Tweetdeck comes into play, allowing you to greatly enhance your Twitter experience.
In fact, in its early years, Tweetdeck was so successful that Twitter Inc. bought it for $40 Million! Since then, some of its features were changed (for example the mobile version of the app is no longer available) but its core principles remain the same – and free.
Upon logging in to Tweetdeck, the user is faced with various columns, each of them dedicated to a specific part of the account. As you can see above, in our own Tweetdeck page, there is a column for our Twitter Home page, one for Notifications, one for Messages and so on. And the best part is that you can customize these columns at will. You can even add multiple accounts to Tweetdeck and manage them simultaneously, side by side. Yes, you heard right, Tweetdeck tackles one of the problems that every social media manager faced at some point: the fact that you can't link your account with the account of a page you manage and control them through the same interface.
On the other side, Tweetdeck has some obvious disadvantages. First of all, it is difficult to manage more than two accounts as the interface gets confusing, crammed and, honestly, way too big. Furthermore, the lack of analytics will make it impossible to fully manage Twitter from within the app, forcing you to move back and forward between different sites. Be that as it may, Tweetdeck is still an extremely useful platform that is ideal for every social media manager, especially if you are trying to get into social media now.
Pricing: Free
Site: https://tweetdeck.twitter.com/
Gain complete control over your social media with Buffer
Buffer is an all-around tool that gives you control over every aspect of your social media. Through Buffer, you are able to schedule posts for all major social media platforms, shorten your links without resorting to websites like goo.gl and bit.ly and access detailed analytics for your accounts. The app also includes a build in analyser that calculates the optimal time for your posts and an image editor so that your pictures can be fully optimized for sharing.
Furthermore, Buffer comes with a browser extension that completely changes the way you see social sharing. Through this extension, if you find a page or a phrase that you like in any website, you can right click on it and instantly share it without even going on the Buffer website. All of these, can also been done through the mobile app of Buffer which is available on iOS and Android.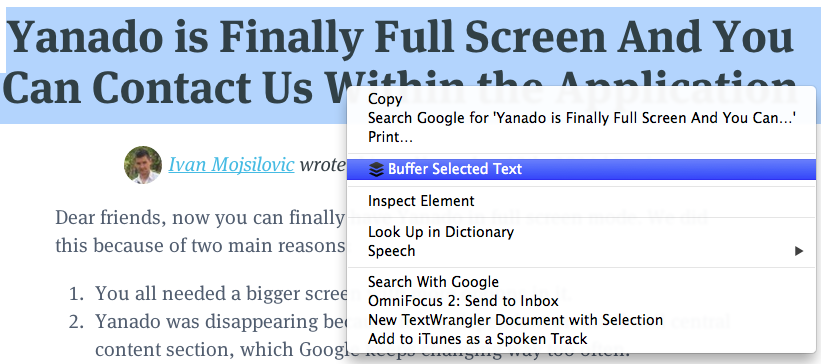 However, some of these features are not free. Most importantly, multiple accounts on a social platform are not free. This means that, if you want to manage multiple Twitter or Facebook accounts, you have to pay. Also, free users can not access the analytics platform or use the RSS Feed and Calendar. Pricing starts from 10$/month and goes up all the way to 250$/month.
Pricing: Free/ 10$/ 50$/ 100$/ 250$
Site: https://buffer.com/
Connect every aspect of your buisness with IFTTT
Understanding what IFTTT does lies in the name of the app itself which stands for 'If This, Then That'. After creating a free account, you can 'Put the Internet to work for you' through custom recipes, as IFTTT calls them. Essentially, you can make IFTTT monitor one of these channels (for example your Twitter account) and every time one of your filters is triggered (for example every time you Tweet) an action is taken – this is the 'If this' part of the application.
The action that happens when the filter is triggered is the 'Then That' part and the possible actions are. seemingly, endless. In this example, every time you Tweet, you can make IFTTT post the same thing on your Facebook, send an e-mail to a contact, save it to Evernote and a lot more! In a way, you can combine almost all of the channels and completely customize your Social experience.
You can even connect IFTTT with Buffer! This way you can do things like auto-generate tweets at the end of the week for everyone that followed you in the past days or every time an image is posted on your Company's Facebook page, Buffer posts it on LinkedIn, Google+ and Twitter. Yes, the possibilities are really endless.
Pricing: Free
Site: https://ifttt.com/
Comments
comments